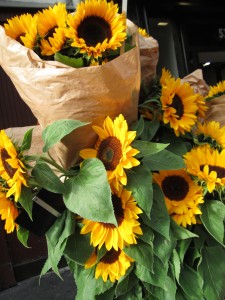 First days in Paris, dazed in Latin Quarter sunshine
That's when I first noticed the polka dot scarf
Wrapped around an elegant French neck
An icy white background with orange, red, black, and navy spots
Evoking the film star on location, the carefree woman I'd like to be.
My son and I at a jazz club off Sebastopol
Sitting in row two, a beer for him, Sprite for me
A couple in front of us already on their third beer
When the jazz combo arrives, performing a tribute to Thelonius Monk
The music is sometimes so technical
The pianist grumbling and straining as he plays
The bass player massaging his curvy upright instrument
The drummer with the shaved head on the sweet river of beat.
And then suddenly I look down, and there it is
The polka dot scarf. RIGHT. AT. MY. FEET.
Stuffed in the beer-swilling woman's purse in front of me
Under her chair, right there, bunched but still beautifully polka dotty
My tennis shoe a mere inch away.
If I had that scarf around my neck
Wouldn't everyone marvel, wouldn't heads turn?
"Was that Audrey Hepburn?" they'd ask
"Or Barbara Stanwyk or Simone Signoret?
She's from Utah? No!"
A few days later, the weather turns cold and rainy
Parisians suddenly all in grays and blacks
Yesterday's crunchy yellow leaves now sodden and brown.
Thoughts of the perky polka dot scarf have washed down a gutter
We drink tiny espressos under heat lamps now
Huddling for more big talk at small tables
A sensible cashmere muffler wound round my crepey neck.