The pianos      My small hotel in London is close to St. Pancras Station, which, together with King's Cross Station, is a hub for certain local trains, underground lines, and, most notably, the Eurostar high-speed rail service. The station itself was designed by William Henry Barlow and opened in 1868. Pancras himself was a Roman who converted to Christianity and was ordered beheaded by the Roman emperor Diocletian around 304 CE. Pancras is the patron saint of children. His Greek name means "the one who holds everything." Some very special items that St. Pancras Station holds are pianos.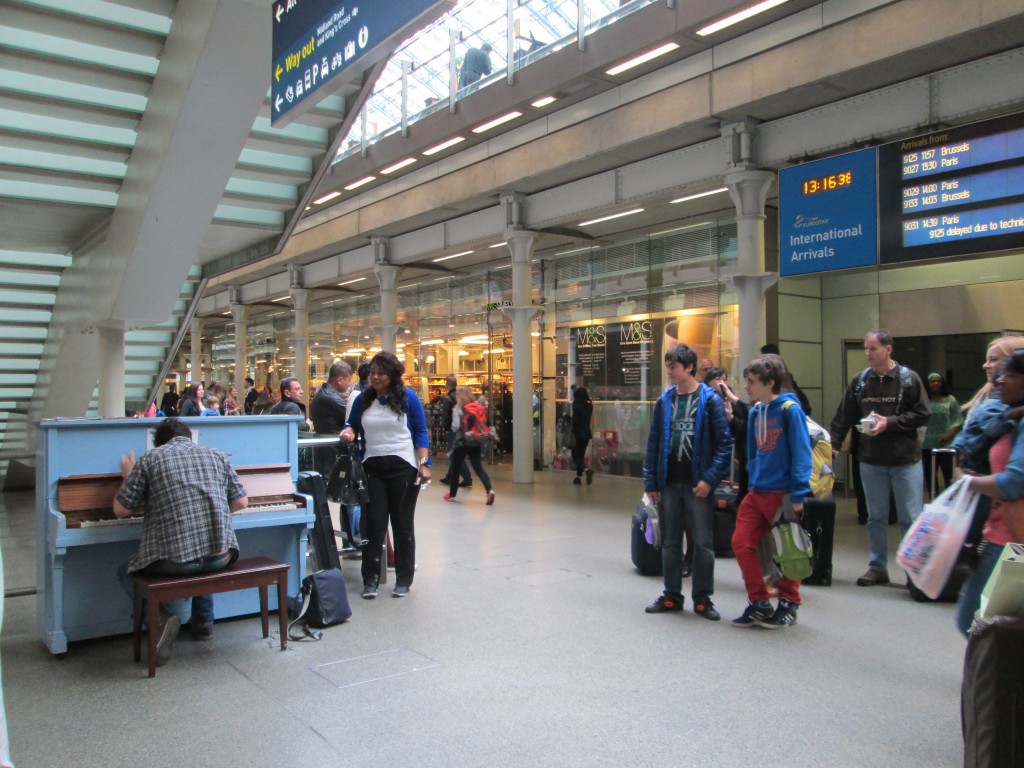 Two "street piano" uprights are positioned just outside the Eurostar arrivals door. When the train arrives in London (including one segment that streaks under the English Channel through the Chunnel), thousands of travelers pour out into the large hall lined with restaurants, coffee shops, Boots and The Body Shop, and other English franchises. You'll see the usual shouts, hugs, tears, and flowers dropping to the ground as arms are thrown around beloveds.
Do you have to audition to play these pianos and then are given a passcode? Or do only the very brave and modestly talented have the nerve to even sit at the bench? Each of the five players I heard seemed confidently accomplished and rhythmic, and the crowd seemed calm and focused on the live music.
Keyboard soul and melancholy reliably wafted through the halls every time I wandered through, likely matching the moods of many of those arriving and those waiting to depart. I found myself seeking out the Eurostar arrival pianos every time I rode the Victoria line.
The music was certainly apropos for my own feelings in a minor scale on this particular trip to London. The pianos provided the proper soundtrack for this particular being away from home. After a quick stop at The Body Shop for a modest free slather of their featured body butter, and I'm good to go back to my hotel room.
Update: In 2016, Elton John donated a Yamaha upright piano to St. Pancras Station. Other musicians have come by to play Elton's piano, including English pianist Jools Holland and American singer-songwriter John Legend.
The franchises   Several British franchises worth knowing about are The Body Shop and Boots (with outlets at St. Pancras), and Marks & Spencer. The Body Shop is famous for its "cruelty-free" skincare and body products, meaning they don't "test finished products or ingredients on animals." Founded by Anita Roddick in 1976, the company and its products are familiar to many Americans in many malls across the US. Their creams, lotions, skin cleansers, lip balms, and body butters are quite fabulous. In my humble opinion, every female, and every boyfriend, best friend, son, husband, and brother shopping for a female should become familiar with these stores.
Boots, founded in 1849 by John Boot,is a health and beauty retailer and pharmacy chain. It also provides optician, hearing care, and photography services, and clothing.
Marks & Spencer ("Marks" or "Marks and Sparks") was founded in 1884 by Michael Marks, from Belarus, and Thomas Spencer from Yorkshire. They sell everything from food, fashion, flowers, school uniforms, home décor, to sticky chicken platters.
The statue    Paul Day's bronze sculpture "The Meeting Place" is big, over 29 feet tall. It is pretty garish, but let's talk about public art. Give anyone anywhere anytime a chance to criticize art, and they will. I was at the Tate Britain yesterday, and I was forced to experience some absolutely miserable, misshapen blobs, artworks that looked like debris left from a bombing attack. But they were art. They were expression.
The Meeting Place portrays a couple embracing, but I didn't notice anybody actually meeting someone at the statue. The small-scale friezes—or high-relief figures—that circle underneath the huge couple are quite interesting though, including scenes of crowds in waiting rooms and of workers carrying rails. Day captures the boredom, the restlessness, and the exhaustion that mirror the actual human undulations throughout the station. When presenting early sketches, Day was forced to take out a frieze depicting a person falling onto the tracks in front of a train driven by the Grim Reaper. I get that. But, if I'd stuck around longer, I might have indeed witnessed some romantic reunions right there beside Day's art.
An 8-1/2-foot tall bronze by Martin Jennings commemorates John Betjeman (England's Poet Laureate) for his campaign to save St. Pancras from demolition. He's depicted looking up at Barlow's original train shed roof.
Ginger, Sporty, Posh, Baby, and Scary Spice filmed their video Wannabe at the station