Donegal is sometimes called "Ireland's Forgotten County" and is, among all of the island's 26 counties, the most rural and least urbanized.  It is considered part of the ancient and historical province of Ulster, but it is not part of the UK's Northern Ireland. The story goes that Donegal was not included by the British Government in creating Northern Ireland in 1922 because almost half the population was Catholic. So, geographically Donegal is remote, politically it is unique, and economically it is fragile with regard to Brexit. County Donegal was the worst affected part of Ulster during the 1840s Great Famine. Many areas became permanently depopulated.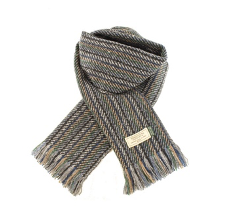 The world-renowned donegal tweed (with a lowercase "d" and pictured above) is a famous craft. These woolen blends are made of short threads with tiny bits of color giving a muted, stippled effect.  Lamb meat from Donegal was recently cleared to be sold in the United States. Whiskey and poitin (a strong, indigenous, white spirit) are also popular products. One writer claimed that Donegal's actual top export is it's men. Scenes from the film Star Wars: Episode VIII— The Last Jedi were also shot at Malin Head in Donegal.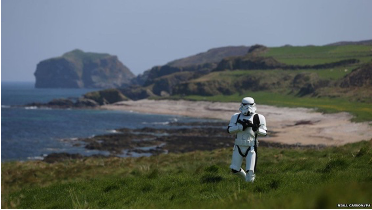 County Donegal shares a 5 ½-mile border with County Leitrim in the Republic of Ireland. It shares a 310-mile border with the UK: Northern Ireland's counties Derry, Tyrone, and Fermanagh.
Tullan Strand in the beach town Bundoran on the southern edge of Donegal inspires the town's claim as Surf Capital of Ireland. As a southern Californian, I'm obligated to point out that Portrush is considered the Surf Capital of Northern Ireland, and Newquay, Cornwall, England, is considered the Surf Capital of the UK. Bundoran's Fairy Bridges natural blow holes and the stone Wishing Chair are also popular tourist attractions in Donegal.