I've always been drawn to the ocean. I grew up in the Pacific Ocean resort town of Manhattan Beach, California. I have lived in Galveston, Texas (Gulf of Mexico); Nome, Alaska (Bering Sea); Dubai, United Arab Emirates (Arabian Gulf); and Brooklyn, New York, and Halifax, Nova Scotia (both on the Atlantic Ocean). I've also traveled to several seaside towns in the British Isles, including Dover, St. Ives and Plymouth plus Aberystwyth in Wales.
"I thought Brits had to go to Spain to visit beaches," an American told me recently. But England has its own sea towns including Bamburgh, Bournemouth, Brighton, Cromer, Deal, Hastings, Portsmouth, Shanklin, Weymouth, Whitby, and Worthing. All with sun, salt spray, waves, sunrises and sunsets, piers and jetties, gulls, and lots of seaside stuff for sale (like in Weymouth, shown at right). The United Kingdom and Ireland are loaded with cliffs, bluffs, bays, capes, heads, coves, tidal pools, and pebbled and sandy beaches. When you consider that Scotland has over 6,000 miles of coastline; Wales, 1,600 miles; England over 2,700 miles; and the island of Ireland—the Republic and Northern Ireland—boasts 1,970 miles altogether, there's a lot of seaside to visit.
In 2014, I spent a week in Weymouth, along the Jurassic Coast of south England. Its beach faces east on the English Channel, so the sun rises over the water. I loved this colorful, welcoming beach town and often found myself comparing it to my hometown.
WATER, WAVES, and SAFETY: Manhattan Beach surf is rough and has notorious undertows and riptides. The surfers love the pounding surf, but this section of the Pacific Ocean is frankly not a great place for kids. In high school, I myself had to be pulled to safety from a riptide by my boyfriend. My hometown beach really shouldn't display and sell floaty toys and pedalo boats.
I didn't see any lifeguards in the large guarding huts on Weymouth's beaches. Perhaps I wasn't there at peak times of day or at a time of the season when lifeguards were necessary. I did see parents and kids out in the water and an occasional long-distance swimmer out in the Channel waves, but Weymouth has a breakwater jetty that helps keep Weymouth Bay calm. The only structures on my home beach somewhat breaking the waves' fury are the concrete pilings of the pier.
Lifeguarding is drop-dead serious in Manhattan Beach. What makes Manhattan a world-class surfing location also often makes it a terrible place to wade and swim. Male guards may spend their time talking with young female beachgoers in the movies, but I have strong memories of them on rough-surf days when they'd stand along the shore between the surfing-allowed flags, clutching their orange floaters, twitching with concern.
SAND: Weymouth's natural beach—at least the part directly across from my B&B— has pebbles and rough sand. The finer, soft sand I see each morning being combed for garbage by a guy on a tractor pulling a Surf Rake trailer may need to be trucked in. Weymouth's beach also has a dog section, where I've seen the timid and the aggressive jump for sticks and balls. Weymouth also trumpets its sandcastle-building prowess at SandWorld (example shown above), complete with a protective tent, artists working, contests, and yearly themes. In 2014 it was "Authors and Books." In 2022, it was "Around the World."
Manhattan Beach has naturally soft sand, perhaps some of best beach sand I've ever encountered in the world. But that sand can also be blisteringly hot. Growing up in the 1950s, that same sand was also often littered with globs of tar. A day at the beach usually ended on our back porch, Mom scrubbing tar off our feet with rags soaked in turpentine.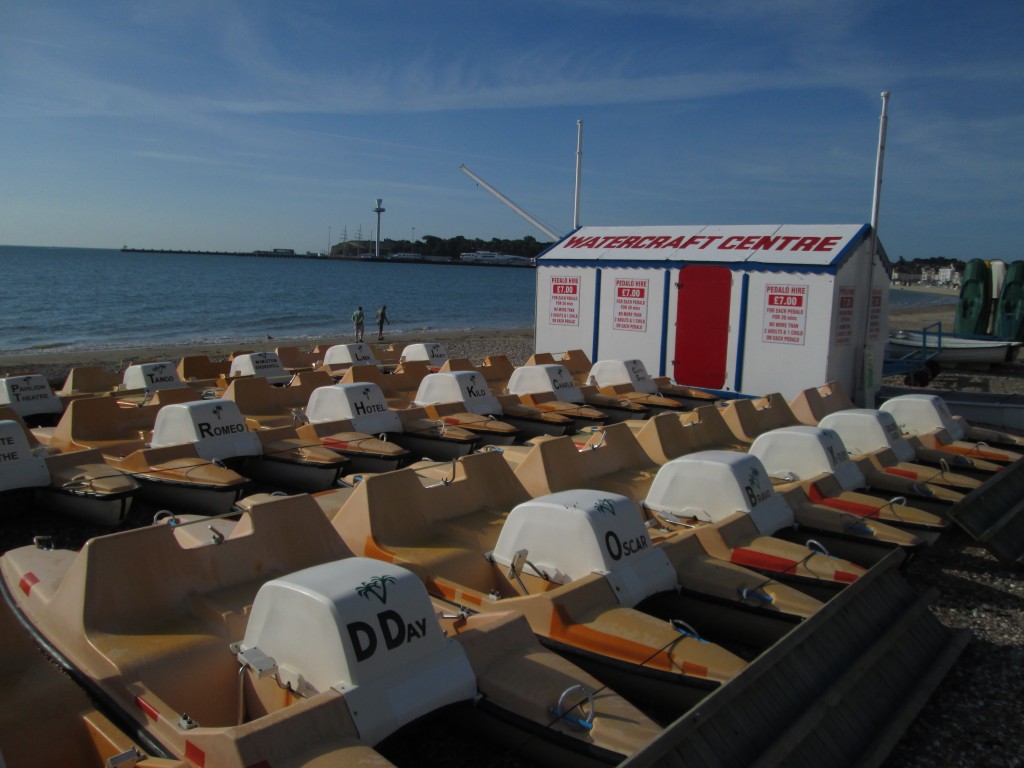 The tar balls have now disappeared, and now Manhattan's well-groomed sand makes it a great place for playing volleyball. Multiple nets are permanently in place near the pier. Frisbee is also widely played, though I get pretty grumpy visiting a place where plastic discs are casually thrown hard and fast.
HISTORY: Weymouth was a major departure point for troops preparing for D-Day in June 1944. There were multiple plaques in town commemorating that effort.
Manhattan Beach also has some plaques, including one recalling a much less patriotic past. Bruce's Beach, a Manhattan Beach resort overlooking the ocean, was purchased in 1912 by Willa and Charles Bruce, an African-American family. A popular place for black families to enjoy the sun away from Jim Crow restrictions, the property was seized in 1924 under the guise of eminent domain after the Bruces suffered threats by the Ku Klux Klan. In 2022 at long last, the property has been returned to Bruce family descendants.
STORM SURF: Our Weymouth host said Channel water had crept up to the street in front of his B&B–but thankfully no further–and he'd stuffed sandbags all along his threshold. Manhattan also has occasional winter storms with spectacular waves. However, the hill to the beach is fairly steep, and, as far as I remember, never threated homes along the Strand. Both seaside resorts occasionally replenish their sand from storm erosion.
STYLE: Manhattan seems to want to be a Beverly-Hills-by-the-Sea and not a slightly down-at-the-heel resort town like Weymouth can sometimes appear. On the other hand, Weymouth is friendly, something Manhattan doesn't always seem. This sourness may be reflective of snooty affluence where the median listing home price in my hometown in 2022 is now $4 million. When my parents bought their own ocean-view Manhattan Beach lot in 1946, the cost was $1,500, and they had to borrow that from their parents.
Weymouth is also filled with older people (Britain's so-called "pensioners"), an age group I don't remember noticing at our beach when I was growing up. Well, except for the pensioners in my own family. My Cleveland, Ohio, grandparents and great-aunts would sometimes venture down to the beach with us. They always wore the wrong clothes, the wrong shoes, very wrong black socks, and would edge into the waves to certain disaster. Aunt Fanny once fell into some shallow waves, her dress soaked, her body shaking with astonishment and laughter. I was six years old when my brother Chris and I sat silently at our kitchen table, watching another bout of laughter between the relatives after a plastic salad bowl had fallen from the top of my mother's refrigerator onto the linoleum. I gravely and famously pronounced, "Chrissy and I will be very happy when you all leave." Also famously, this announcement sparked a new round of laughter.
Perhaps I need to go back to Manhattan with a new attitude. The appearance-obsessed, unfriendly beach town I remember may have only seemed so because I'd never felt I fit in. I should get a latte and scone from the Starbucks near the water, walk out onto the pier, sit on a concrete bench among the fishermen, stare out to sea, and reflect with some compassion.